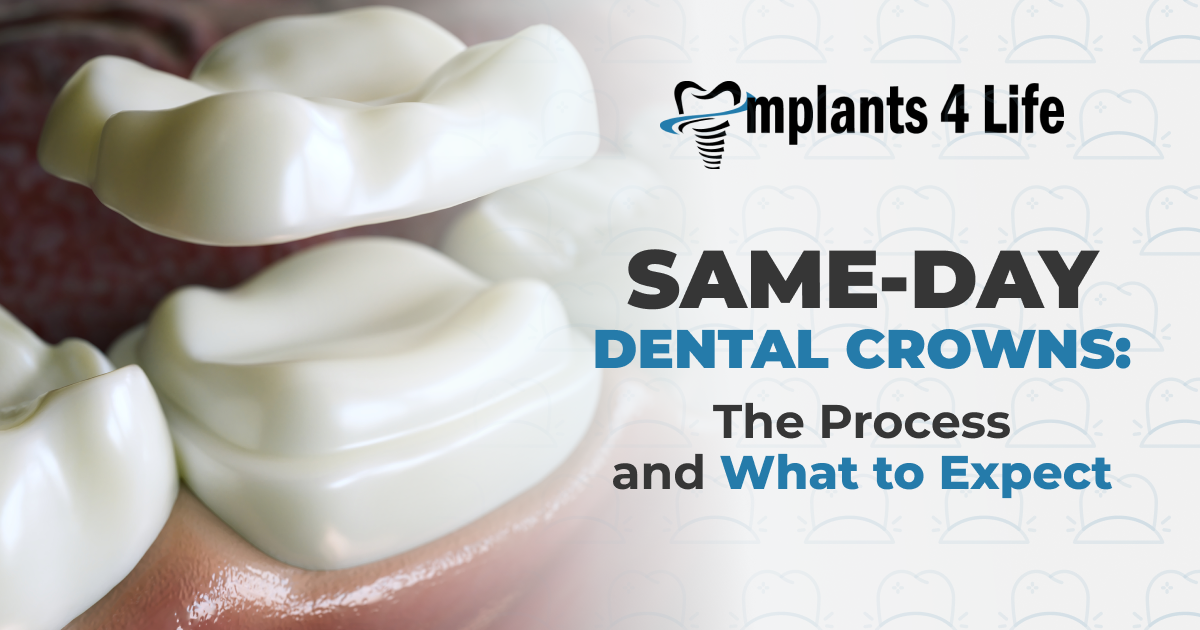 At Implants 4 Life, we're trusted for high-quality same-day crowns throughout Sherman Oaks and Santa Clarita. A crown replaces the decayed portion of a tooth. Depending on the condition of your teeth and gums, it can resolve an issue, or you might need additional dental work. We provide an individualized treatment plan for every patient, but here's a look into how same-day dental crowns work:
What Is the CEREC Procedure?
We use an advanced procedure for creating dental restorations. CEREC, or Chairside Economical Restoration of Esthetic Ceramic, enables us to remove less of the natural tooth, whereas 70%+ of a healthy tooth's structure may be removed with traditional processes. Also, molds are not needed to take impressions of teeth; there's no goo to make you gag. Therefore, it's a simpler and more comfortable process that entails:
3D Imaging

: Using an intraoral camera, your dentist will take digital scans of your teeth and gums. Digital impressions are generated, and the scans are sent to a milling machine. A 3D model will be created using Computer Aided Design (CAD) and Computer Aided Manufacturing (CAM) technology.

The Dental Crown Is Milled

: The machine sculpts a block of ceramic into a dental crown. It's shaped to blend seamlessly with your teeth and colored to match your natural tooth color. As accurate as it is, the milling process usually takes about 15 minutes.

The Crown Is Placed

: Once the crown is complete, your dentist will remove it from the mill and polish it, check that it matches your existing teeth, and cement it in place. After it's bonded, the dentist will ensure it looks right and feels comfortable.
How Long Do
Same-Day Dental Crowns
Take?
Receiving same-day crowns is a quick procedure that usually requires about 30 to 45 minutes (the entire process can require as little as two hours of downtime). The dentist will take images and fabricate the crown while you wait. You can read a book, play a video game, or relax. The function of your teeth will be restored immediately after the procedure. There are no dietary restrictions as there are with a temporary crown.
A CEREC crown requires fewer appointments and saves you money. It also benefits patients in terms of:
Comfort

: Unlike a temporary crown, a

same-day crown

will always fit perfectly.

No Risk of Injury

: The crown will fit just right, eliminating the risk of injury due to a poorly fitting temporary crown that can loosen.

Further Decay Is Prevented

:

Same-day dental crowns

are permanent and will never come off, so there's no risk of additional tooth decay.
Am I a Candidate for
Same-Day Crowns
?
A CEREC crown is suited for most people who have lost most of a tooth or have one broken, chipped, or cracked. Excessive wear can also warrant treatment with a crown. The tooth to be "capped" may be decaying or have been damaged by trauma. Able to correct a cosmetic issue, the crown can also protect the tooth root and prevent future damage. 
However, your dentist may recommend traditional crowns or other restorative procedures if the affected tooth is near the front of the mouth, the damage extends below the gum line, or you grind your teeth. They'll determine the best-suited treatment options during your examination.
Schedule a
Same-Day Crowns
Procedure with Implants 4 Life
A leader in implant and cosmetic dentistry, we have two offices in Southern California where we can quickly transform your smile. We can have your crowns or veneers done in one appointment. Each is made of high-quality porcelain with characteristics similar to natural tooth enamel. To schedule a consultation or learn more about same-day dental crowns, call (818) 877-7284 today.