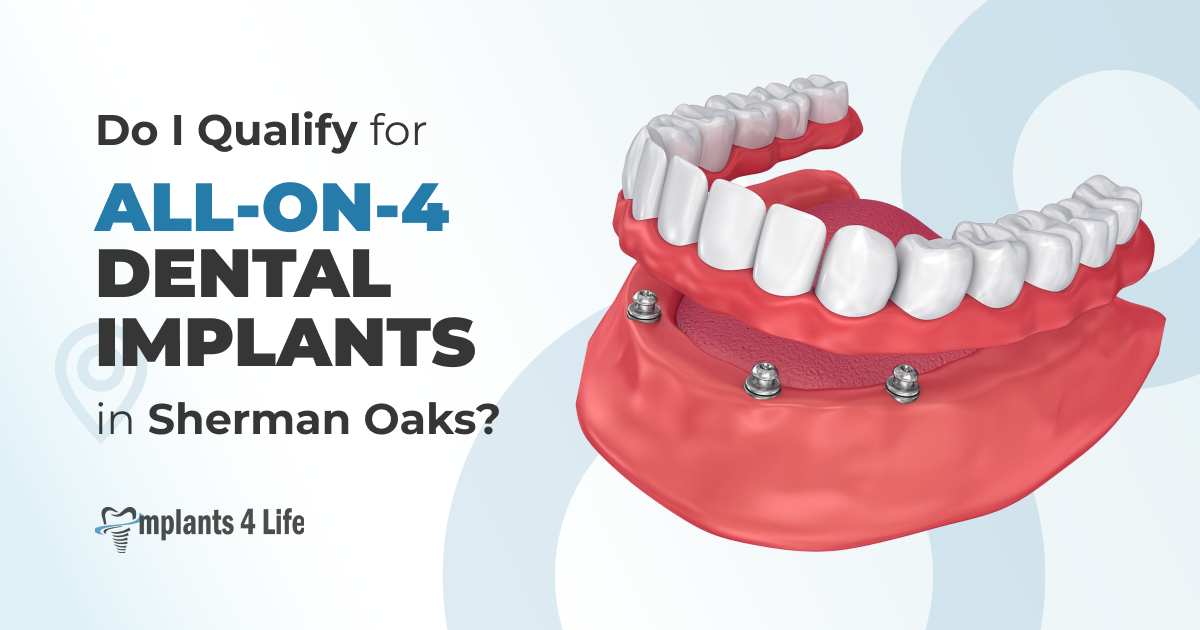 Tooth loss affects millions of Americans. According to the Centers for Disease Control & Prevention, one in six adults aged 65 or older has lost all their teeth.1 Dental implants provide a permanent solution to missing teeth and are identical in appearance, strength, and function. As the field of prosthodontics has advanced, so have the options, which now include All-on-4 dental implants in Sherman Oaks. 
What Are All-on-4 Dental Implants?
The All-on-4 approach replaces a complete upper or lower arch of teeth with a fixed bridge. Just four titanium implants are inserted into the jawbone, which is fewer than with the All-on-6 technique. The implants are placed and allowed to integrate with the bone. Once you're healed, a prosthetic arch can be attached. 
Using just four artificial roots has many benefits, although both procedures are similar. Fewer implants simplify the treatment process and can mean a reduced healing time. The process is quicker, less invasive, and less costly  than using one implant per tooth. But only if you're eligible for treatment will a dentist recommend it.
Are All-on-4 Implants for Me?
During your initial consultation, your dentist will determine whether you're a candidate for the procedure. If not, then proceeding can result in complications such as implant failure. Since we're committed to providing lasting results, we'll provide All-on-4 dental implants or an alternative solution if you don't qualify.
Here are some factors an implant specialist will consider:
Bone Health

: Using advanced imaging, the dentist will determine whether you have enough jawbone to support the implant. The strength of the implant is reliant on how well the bone fuses into it. For some patients, a bone graft helps overcome a lack of bone density and reduces the risk of implant failure. 

Gum Health

: If you have periodontal disease, tissue loss increases the risk of infection after the procedure. Continued gum loss can also compromise the implant root. It's a sign of poor dental hygiene as well. Treating the underlying cause and changing your habits can increase eligibility for dental implants once your gum health improves.

Age/Development

: Patients under 18 years of age don't usually qualify for dental implants. This is because their bone structure is still developing. Changes in the size or shape of the jaw can jeopardize implant success. The surgeon must carefully assess the development of the jaw. However, there's no upper age limit on eligibility; an adult 80 or older can qualify if their jaw is healthy and they have no significant risk factors.

Medications

: Some medications can cause side effects and increase certain risks during a surgical procedure, including dental implant surgery. One concern is whether your medications can interfere with anesthesia. Therefore, inform your dentist about any prescription medications or over-the-counter non-steroidal anti-inflammatory pain relievers you take.

Tobacco/Alcohol Use

: Your dentist may ask about your habits before considering dental implant surgery. If you smoke tobacco, the smoke can dry out your mouth and increase your infection risk. Both tobacco and alcohol can inhibit healing. Abstaining from smoking, drinking, or recreational drug use reduces the risk of rejection.

Overall Health

: Patients with uncontrolled diabetes, blood clotting disorders, cancer, and osteoporosis (or other degenerative bone diseases) may not qualify for All-on-4 dental implants. Parkinson's disease, autoimmune problems, and psychological disorders can also affect eligibility due to concerns with recovery and post-operative care. 
Learn If You Qualify for All-on-4 Dental Implants in Sherman Oaks
At Implants 4 Life, our expertise and state-of-the-art equipment enable us to determine if All-on-4 implants are for you. During your initial consultation, we use intraoral video scanners and advanced imaging tools to assess your oral anatomy and health, while the Face Hunter 3D facial scanner helps visualize your restoration. Digital design and milling tools allow us to quickly fabricate dental restorations. The entire process, and your procedure, are completed in one office.
Schedule your appointment and learn if you qualify for All-on-4 dental implants by calling (818) 873-5096 today.
Source:
https://www.cdc.gov/oralhealth/fast-facts/tooth-loss/index.html