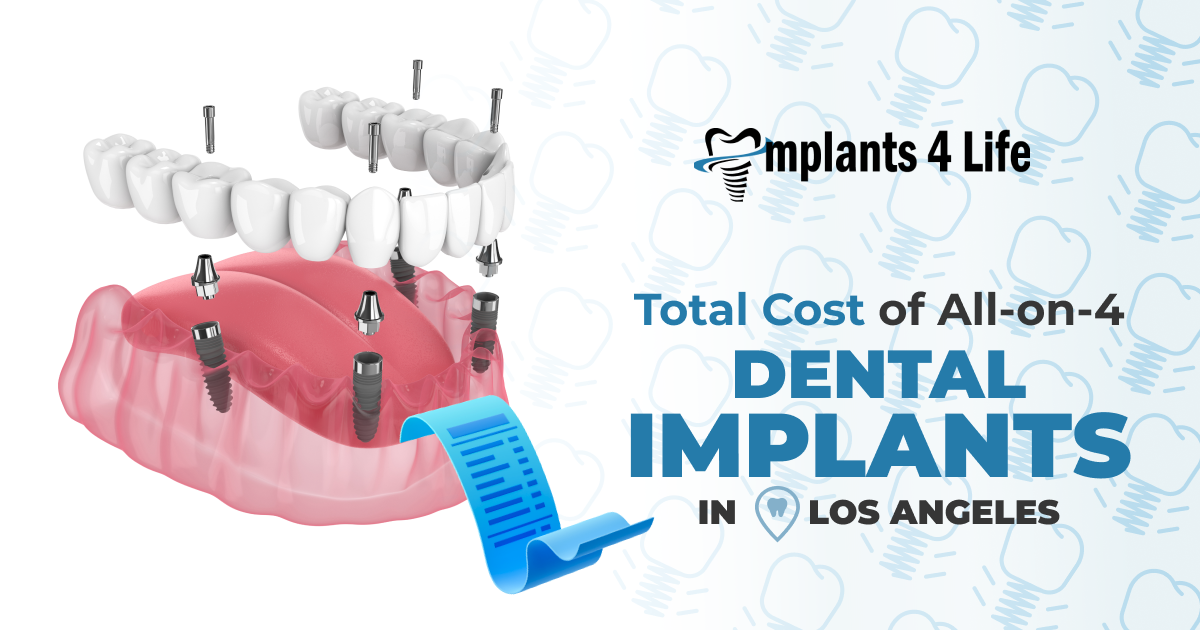 The total cost of All-on-4 dental implants is often what our patients first ask about. It's difficult to quote a price without completing a full evaluation and creating a treatment plan. At Implants 4 Life, every treatment is customized to the patient's needs. But we'll provide a general look at the cost of All-on-4 dental implants in Los Angeles to give you an idea of what to expect.
All-on-4 vs. Replacing Every Tooth Separately
A single dental implant typically costs around $4,500. Therefore, the cost of replacing every individual tooth with an implant would be staggering (the average adult has 32 teeth!). The All-on-4 procedure involves placing just four implants, onto which a full-arch fixed-implant bridge is attached. The treatment cost generally ranges from $35,000 to $45,000.
If you need a full restoration, that's certainly less than inserting one implant per each missing tooth.
What Does the Total Cost of All-on-4 Dental Implants Include?
Getting All-on-4 dental implants in Los Angeles isn't cheap. Some providers may charge less, but you can't be certain they're as skilled and experienced as Dr. E. At Implants 4 Life, we factor the cost of the procedure into your quote, but it also includes the price of your entire treatment plan. Here's a look at what's included in the total cost:
Consultation

: During your first visit, you'll meet with our dental implant specialist and receive a complete assessment of the health of your teeth and jawbone. Our team will plan much of your treatment over the coming months.

Diagnostic Imaging

: We use a specialized high-speed 3D scanner and CAD/CAM software that enables us to process photo-realistic digital images. These help us produce dental prostheses with high precision.

In-House Lab Services

: We mill all dental restorations in-house using state-of-the-art equipment. It allows us to produce them faster and more cost-effectively than having to outsource production to a third-party lab.

Surgery

: The first surgical procedure is the implanting of the titanium posts. These are your actual dental implants into which your new teeth will be fitted once you're fully healed. But you'll leave our office with a full set of temporary yet natural-looking and functional teeth.

Sedation

: We offer various sedation dentistry options at Implants 4 Life. They range from injections to numb the area to nitrous oxide to induce calmness. If you're particularly sensitive to dental treatment or have severe anxiety, we can provide general anesthesia to help you sleep through the procedure.

Follow-Ups

: The implants take about 3-6 months to fuse with natural bone. We'll then perform another examination and provide a permanent set of teeth, ensuring they fit perfectly, look and function like real teeth, and last for decades.
The total cost of treatment includes the high-quality Zirconia we use to craft bridges and arches that withstand high pressure and resist wear, fracturing, and chipping. Each is also hand-colored and polished to match your natural teeth and gums. 
However, treatments required in addition to the implant process are not included in the total cost of All-on-4 implants. These include tooth extractions, periodontal care, and bone grafts that help strengthen the area where an implant will eventually be placed.
Schedule a Consultation for All-on-4 Dental Implants in Los Angeles
During your first visit with Dr. E, you'll learn whether you're a candidate for dental implants. If so, you'll receive a full quote for the price of your treatment plan. With All-on-4 dental implants, a full set of replacement teeth is provided with a few strategically placed titanium posts. It is a simpler procedure, costs less, and shortens recovery time. To schedule your first appointment and learn about our financing options and other services, contact us online or call 818-495-8983.