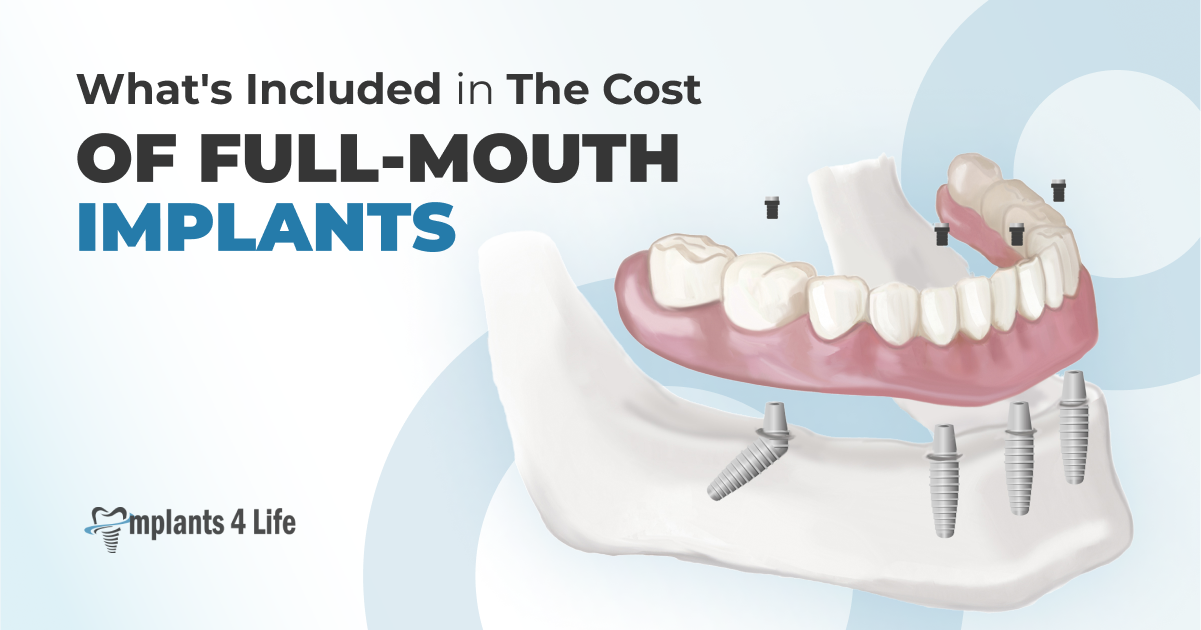 Full-mouth dental implants provide a more functional and comfortable alternative to dentures. But if you're missing your teeth, the cost of full-mouth implants can be a barrier to eating, speaking, and smiling confidently again. A full set of dental implants can cost as much as $90,000, according to the latest data from Forbes (2023).
The cost varies considerably from one person to another. No two procedures are the same. Each is customized to the patient's needs. Your dentist will provide a quote during your initial consultation, which includes various aspects of the multi-step process:
Dental Implant Consultation Process
Initial Examination
During your first examination, your dentist will perform a complete assessment of your oral health. They will determine if you need dental implants, how to approach the process, and what implants are best for you (i.e., endosteal, subperiosteal, zygomatic implants, etc.). For some patients, implant-supported dentures are an option, while others are candidates for All-on-4 dental implants. Your treatment options will be discussed, as will cost and financing options.
X-Rays/3D Imaging
The cost of full-mouth implants also covers imaging, which includes X-rays and 3D CT scanning. Digital impressions are also made to create a 3D digitization of your entire dental and jaw anatomy. These aid the consultation and evaluation process, which is included in your quoted price, and can cost $350 to $515 (per Forbes).1
Supporting Procedures
Teeth extractions, bone grafting, sinus lifts, and other procedures required before you receive dental implants may be included in the cost of the process. Depending on the practice, these procedures may be extra or considered part of your overall treatment plan.
Anesthesia/Sedation
An anesthetic will be provided during the procedure to numb the treated area. It minimizes any pain or discomfort. Depending on the patient's level of anxiety, nitrous oxide may be administered to calm them during the procedure. Other patients prefer full sedation, in which they are asleep for the surgery. Each sedation option comes at its own cost that the dentist will include in your quote.
Titanium Implant
Placing the titanium post or screw into the jawbone is a major step of the process. It's only the first surgical step. But the cost of this high-quality, long-lasting material and placing it is a factor.
Abutment
Once your gums and the bone heal around the implant, an abutment is placed above it. The abutment attaches directly to the implant and is what secures the replacement crown, bridge, or arch. 
Crown Design and Milling
Each crown and arch is designed, sized, and shaded to the patient's needs. At Implants 4 Life, we mill all restorations in-house, which avoids the costs of having an outside provider handle these steps. Nonetheless, sophisticated machinery and software are required, adding to the cost of full-mouth implants.
Placement of the Prosthesis
If you're receiving full-mouth implants, the arch is secured to the abutment after you're fully healed. The entire procedure must be done by a trained specialist. Therefore, the cost is higher than that for a traditional dental service.
Insurance/Payment Options
Until relatively recently, dental insurance didn't cover implants. But nowadays, you can find a dental insurance policy covering part of the cost of full-mouth implants. The percentage of reimbursement seems to be increasing with time and varies depending on the procedure. Some insurers cap the total reimbursement amount in a year or enforce a lifetime cap for the procedure. Forbes has found that, on average, patients can expect a $1,500 reimbursement per implant, per year.
Other options include using health reimbursement accounts (HRAs), flexible spending accounts (FSAs), and health savings accounts (HSAs). Implants 4 Life also offers a variety of financing options. If you qualify for a flexible payment plan, you can divide up the cost of treatment into affordable monthly payments with low-interest rates.
Get Your Quote on the
Cost of Full-Mouth Implants
Implants 4 Life provides full-mouth implants, or Teeth-in-a-Day, in Sherman Oaks and Santa Clarita. A full quote for the process is provided during your initial consultation and covers various aspects of treatment. There will be no surprise fees later. To make an appointment and receive a quote on the cost of full-mouth implants, contact us online call 818-805-0596.
Source:
https://www.forbes.com/health/dental/how-much-dental-implants-cost/