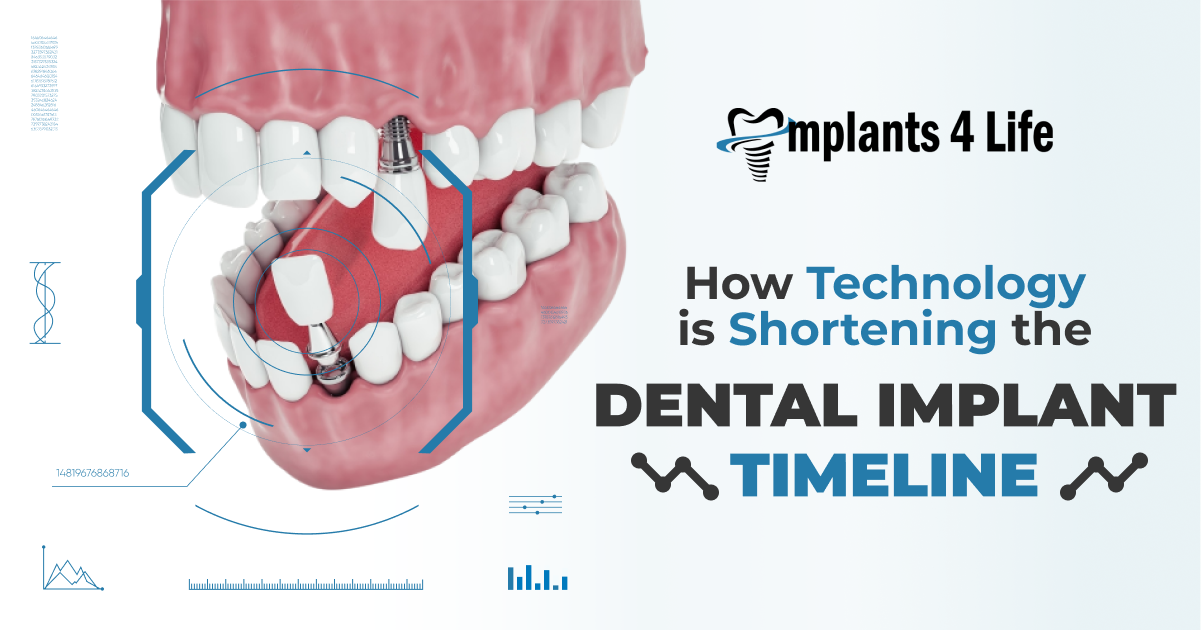 Dental implants provide numerous benefits over dentures. They won't slip and they look, feel, and function like natural teeth. The downside is receiving a prosthesis can take months. But advancements in technology are helping shorten the process, as more dental practices can provide services in-house that were once outsourced. We'll now look at some innovations helping to shorten the dental implant timeline for patients.
Reduce Your Dental Implant Timeline
3D Scanning
At Implants 4 Life, we use the Face Hunter 3D facial scanner. This high-speed scanner eliminates the need for dental impressions, improving comfort for the patient. No bulky trays or materials are used that can induce a gag reflex. You also don't wait for a lab to produce a mold. Once the scanner takes a 3D image of the patient's oral anatomy, it sends collected data directly to a software system. 
In addition, we use 3D CT scanning to image your internal oral anatomy, including your jawbone and existing teeth. This imagery is crucial for assessing your general dental health. It also helps determine your suitability for dental implants and guides surgeons in placing titanium posts, abutments, and crowns.
CAD/CAM Software
The latest CAD/CAM software produces photo-realistic 3D digital images for milling personalized dental restorations. Bone structure, tooth orientation, and other variables can be precisely measured. The software's 3D modeling capabilities allow adjustments to be made based on your anatomy so that restorations can be fully personalized.
Milling Equipment
Just as we can mill a single tooth with imaging from the CEREC Omnicam, the Zirkonhahn milling unit allows us to produce a durable, natural-looking restoration on-site. Its precise accuracy ensures a perfect fit. The system is a type of 3D printer that can mill a dental prosthesis with attention to the smallest details.
For patients with enough bone, a single-tooth implant can be provided in one day. But even for those who must wait to heal, our ability to manufacture durable prosthetic bridges and arches helps simplify the process. Each implant and prosthesis is custom-made, so it will fit comfortably once in place, further shortening the dental implant timeline.
Greater Precision Means Fewer Implants
High accuracy and precision are allowing dentists to place fewer implants. Depending on a patient's needs, two or more implants can be used to provide implant-supported dentures. These are more secure than traditional dentures, so they won't slip when you eat or speak. All-on-4 implants replace a full arch of teeth with just four dental implants. High-resolution scanning and visualization tools allow for the strategic placement of these implants to avoid sinus lifts, bone grafting, and other treatments that can extend the timeline.
Guided Implant Surgery
Advanced imaging technology allows dental surgeons to visualize, with high precision, the angle and depth of an implant during a procedure. These imaging tools and the latest surgical equipment help improve the chances of success. The process also reduces healing time and minimizes the risk of post-surgical complications. Therefore, the procedure and recovery take less time.
Schedule Your Dental Implant Consultation Today
Advanced imaging equipment, software, and milling systems are reducing the manual work required to create customized dental restorations. Using these technologies, we can shorten the dental implant timeline and increase the chances of a successful outcome for all patients. To learn more about dental implants and other treatments, schedule an appointment with Implants 4 Life online or call 818 873-5096.