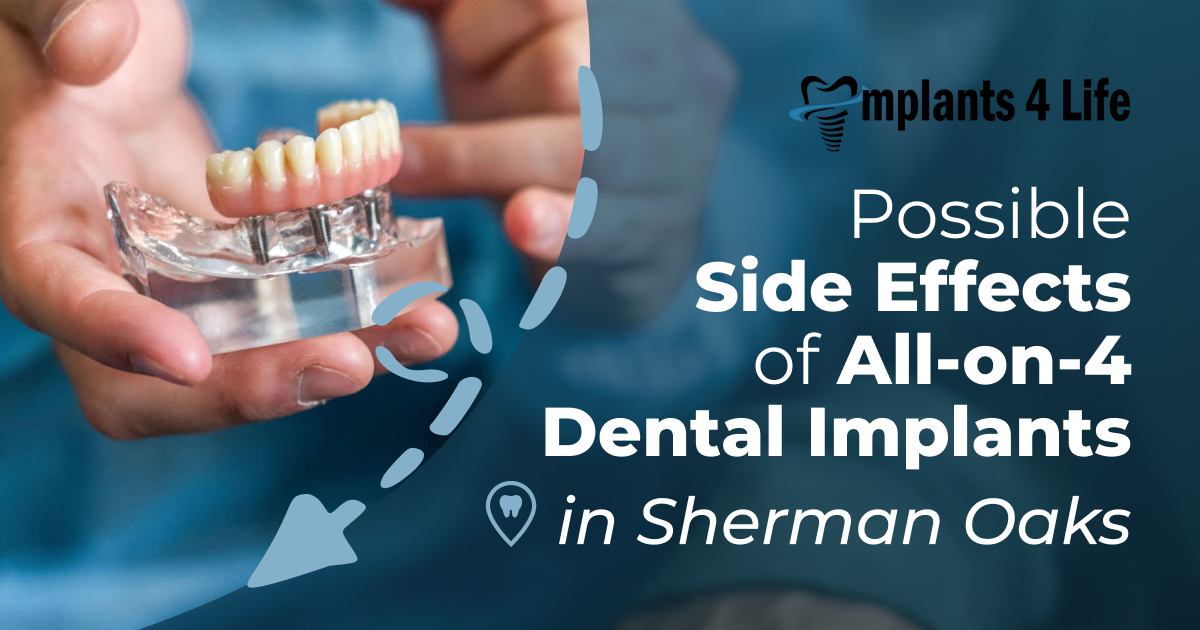 Dental implant surgery is a low-risk method of restoring function and appearance. Although dental implants have a 98% success rate, side effects and complications can occur, as with any type of surgery. The benefits outweigh the risks. But it's important to know the possible side effects, both common and rare, of receiving all-on-4 dental implants in Sherman Oaks:
Common Side Effects
The most common side effects of all-on-4 dental implant surgery, which usually go away relatively quickly, include:
Pain at the Surgical Site
Some pain and discomfort after oral surgery aren't uncommon. Any pain should start easing up after the first day or so. Over-the-counter pain medications can be used if the pain is manageable. Your dentist may prescribe stronger painkillers for more severe pain.
Sensitivity of Teeth and Gums
You may feel tenderness around the area of the procedure. Surrounding teeth also may be sensitive. Eat soft foods and drink lukewarm beverages to avoid irritation. To protect sutures and incisions, avoid spicy foods and those that can break up into crumbs in your mouth.
Light Bleeding
Seeing a little blood in your saliva after surgery is nothing to be concerned about. It should clear up in a few days. To minimize bleeding, avoid hard foods and strenuous activity after the procedure. Also, get as much rest as you can.
Gum Discoloration
Gum tissue at the surgical site may be bruised and discolored. Any discoloration should go away in a few days to about two weeks.
Gum or Face Swelling
You may notice swollen tissue around the gumline or your face in the area of the procedure. It should improve from day to day and also disappear within two weeks. In the meantime, it can be managed by wrapping a cold compress in a towel and holding it in the area for 15 to 20 minutes at a time (leave the compress off for 15 to 20 minutes before repeating).
When Is It an Emergency?
Serious side effects of all-on-4 dental implants in Sherman Oaks are rare. But if your symptoms get worse or the situation seems concerning, call your dentist or oral surgeon right away. Less common issues include:
Infection
The surgeon should clean the area before placing the implant, but bacteria, viruses, fungi, and other microorganisms can still cause an infection. If an infection occurs, it can start and spread anywhere in the body. Antibiotics may be prescribed before the surgery to reduce the risk. Signs of infection include inflamed, sore, or red gums. Call your dentist immediately to avoid damage to your gums, the implant, or surrounding teeth.
Tissue Injuries
If your gums, blood vessels, or bones are damaged during surgery, it can cause constant pain and loosen the implant.
Sinus Issues
A poorly placed upper implant can penetrate the sinus cavity, resulting in chronic headaches and various sinus problems.
Nerve Damage
Signs of nerve damage after surgery include numbness or tingling in your mouth or face. High-quality imaging helps place implants and avoid such damage.
Other problems that can happen post-surgery include a fracture of the implant. An implant fracture is most often due to extreme forces such as chewing hard food and clenching your teeth. To avoid trouble, eat softer food, avoid teeth clenching, and relax your jaw; a night guard can prevent grinding that can lead to damage.
Schedule Your Appointment Today
Implants 4 Life is led by Dr. Sean Ebrahimian, who can handle the most complex of dental needs. We provide all-on-4 dental implants in Sherman Oaks, also known as "Teeth-in-a-Day", to replace a full arch of teeth. Placed using a minimally invasive process, they can last for decades if properly cleaned and maintained. For an evaluation that includes 3D imaging and to learn more about our all-on-4 dental implant procedure, call (818) 877-7284 today.