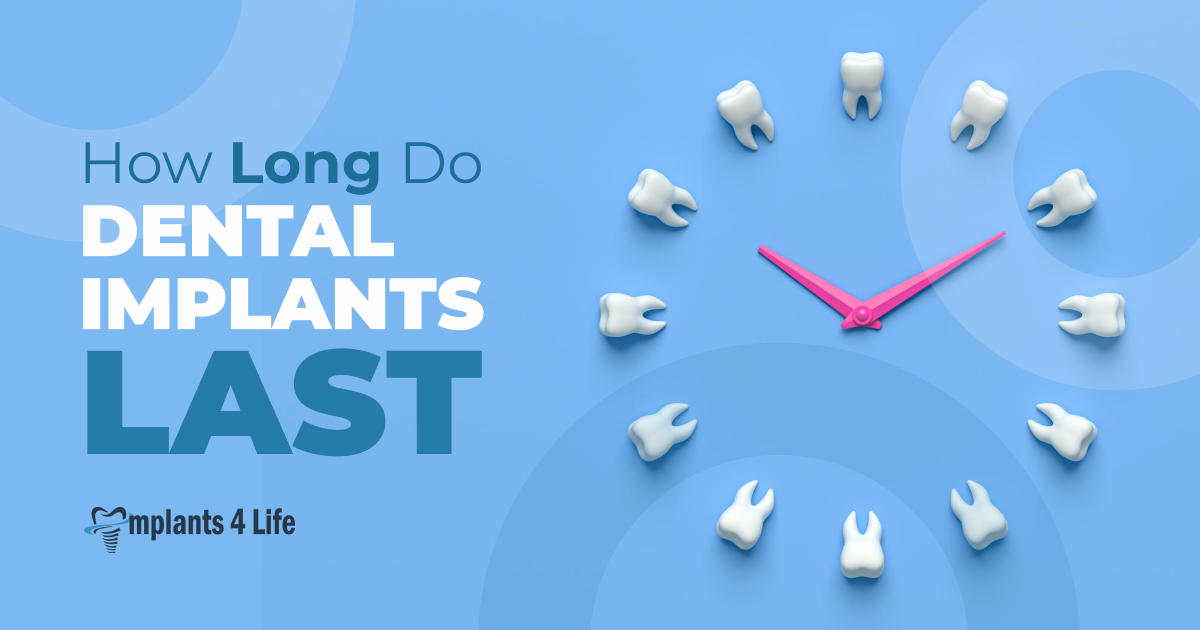 "How long do dental implants last?" is a question many of our patients at Implants 4 Life ask. The implant post is made of titanium, while prosthetic tooth replacements are made of high-quality Zirconia, which is an extremely durable type of ceramic. On average, dental implants last from 10 to 30 years. Depending on your age when you receive implants, they can last the rest of your life.
Parts of a Dental Implant
A dental implant consists of three parts, each of which can wear at a different rate. The titanium screw fuses permanently with the jawbone and usually doesn't have to be replaced. However, the replacement tooth, which is attached to an abutment atop the implant, is more prone to wear and tear. If it starts to break down, it must be replaced, which can be done by your dentist. Dental implants generally last longer than dentures, crowns, and other restorations.
Factors That Can Shorten the Life of Dental Implants
It's rare for any part of a dental implant to be damaged. Nonetheless, the crown is exposed to the elements and a range of forces, so it can break. Some of the factors that can shorten its life include:
Poor Oral Hygiene

: If you don't follow your dentist's oral hygiene recommendations, you could develop gum disease. Inflammation can eventually lead to bone loss, which can cause an implant to fail.

Bruxism (Teeth Grinding)

: If you grind or clench your teeth during the day or while asleep, it can wear down dental implants. The 10-year average implant survival rate is around 95%, but for patients with bruxism, the five-year survival rate for an implant is about 70%.

Improper Diet

: Biting or chewing hard objects, such as hard candy or ice, can damage dental implants to the point they need replacement. Professionals also recommend avoiding nuts, seeds, acidic foods, spicy foods, and sticky foods such as caramel.

Using Tobacco

: Smoking or chewing tobacco can cause complications that affect how dental implants remain anchored to the jawbone. Avoiding it can increase the lifespan of implants and protect you from other health issues.
A variety of medical conditions can also shorten the life of implants. Osteoporosis and other causes of bone loss can lead to implant failure. Diabetes, a weakened immune system, bleeding disorders, and cardiovascular problems can increase the risk of an implant failing prematurely. This risk is increased in older adults with underlying conditions. It's also higher if the surgeon lacks experience, which can result in a poorly designed implant, improper placement, tissue trauma, or attaching a crown before the implant stabilizes.
How to Make Dental Implants Last Longer
When a patient asks, "How long do dental implants last?", we provide advice on how to properly care for them. Dental implants are durable but not indestructible. You can increase their lifespan in the following ways:
Practicing Proper Oral Hygiene

: We recommend everyone brush their teeth at least twice a day and floss once daily. These habits also help protect dental implants. While the implant itself won't decay, teeth and gums around it can deteriorate without proper care, which can reduce the amount of support for the implant.

Maintain a Healthy Lifestyle

: Eating healthy foods, avoiding tobacco, and taking supplements such as potassium and calcium can help dental implants last longer. Supplements can support bone health and stronger bones keep implants secure. Talk to your doctor before starting any supplements. 

Visit Your Dentist Regularly

: Routine appointments every six months will help your implants last. They include thorough dental exams to catch potential issues, cleaning your teeth and gums, and ensuring there are no problems with your dental implants.

Use a Night Guard If Necessary

: Grinding your teeth can cause a crown, bridge, or implant arch prosthesis to wear down or loosen. It can also damage your natural teeth or cause jaw issues. Wearing a night guard can protect the implant and your remaining teeth from damage.
For more information, read our article about dental implant crown aftercare.
How Do I Know If an Implant Is Failing?
Signs of dental implant failure include pain when biting or chewing, an implant moves, or peri-implantitis, which includes symptoms like redness, swelling, bleeding, or receding gums. A failed implant must be removed. Your dentist will typically use local anesthesia and, if possible, replace the implant. A bone graft may be needed if there's significant bone loss. If the implant cannot be replaced, dental bridges, dentures, or other treatment options may be used.
Schedule an Appointment with Implants 4 Life
Located in Sherman Oaks and Santa Clarita, we provide high-quality dental implants to patients in Southern California and beyond. Our experienced surgeon, in-house lab, and state-of-the-art facility ensure you receive the best treatment possible. Every treatment plan is customized to the patient's needs. Multiple payment options are available and we offer special financing plans. To learn more about how long dental implants last, and if you're a candidate for them, or to schedule an appointment, call (818) 805-0596 today.