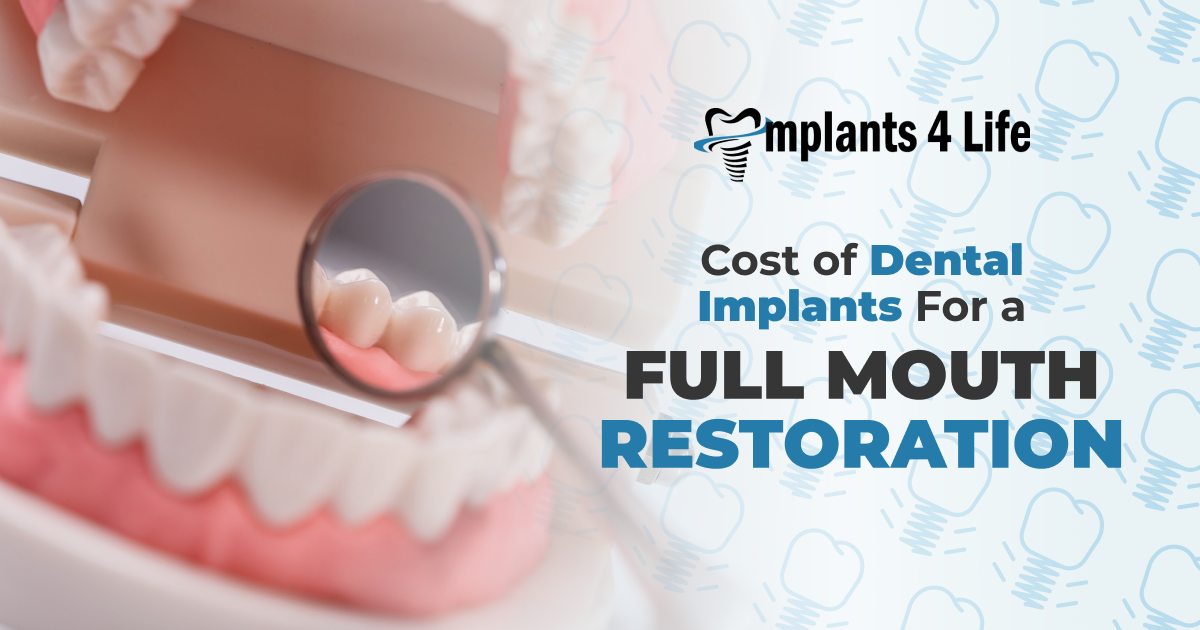 Patients travel from all over the country to visit our Sherman Oaks and Santa Clarita offices. The expertise of Dr. Sean Ebrahimian, otherwise known as "Dr. E", and our state-of-the-art equipment and facility enable us to provide every patient with a customized treatment plan. Whether you need a single implant or dental implants for a full mouth restoration, you're ensured high-quality, lasting results. 
Our new patients often inquire about the cost of treatment. You'll receive a full and accurate quote during your initial consultation. But we'll discuss general costs here and break them down to help you plan and budget.
Cost of a Dental Implant Procedure
According to data collected by Forbes, a single dental implant (including the titanium post, abutment, and zirconia crown) ranges from $3,100 to $5,800, as of 2023. Bridges that replace multiple teeth in a row can range from $6,000 to $10,000. Overall, they're less expensive than individual implants; just two implants can support up to three or four adjacent teeth.1
The cost of dental implants for a full mouth restoration can vary considerably. For example, the All-on-4 procedure can range from $24,000 to $50,000. It is less expensive than replacing each tooth individually. Going this route can run from $60,000 to $90,000.1
What Does the Cost of Full Mouth Dental Implants Include?
Receiving dental implants is a multi-step process. At Implants 4 Life, we can provide a new set of teeth in one day, but the total cost of treatment covers various aspects of treatment. The quoted price for your restoration can include:
Dental examinations

X-rays and 3D imaging

Installing the dental implant

Placing an abutment

Designing and milling crowns

Placing a crown, bridge, or arch
The actual cost of each service depends on the dental practice and the treatment plan. No two procedures are the same. The nature and complexity of the restoration can vary from one patient to another. If you need a tooth extraction, bone graft, or sinus lift, and your dentist provides this service, supporting procedures may be included in the quoted cost.
How Much Will My Insurance Cover?
Dental insurance policies can differ considerably in coverage. Traditionally, insurers have considered implants to be an elective procedure. But more insurance companies are covering dental implants—at least in part. You could be reimbursed a portion of the total cost. However, your insurer may cap the amount reimbursed in a calendar year. 
Some insurance companies reimburse up to $1,500 per implant, per year.1 But your options to manage the cost of dental implants for a full mouth restoration aren't limited to insurance. Other possibilities include health savings accounts (HSAs), health reimbursement accounts (HRAs), and flexible spending accounts (FSAs). These provide options to pay for or reimburse expenses; your account could even cover the difference between what your dental insurance covers and out-of-pocket expenses. 
Schedule Your Consultation/Estimate with Implants 4 Life
If you're considering dental implants, we'll use the latest equipment to assess your needs, plan your treatment, and create custom dental restorations. You'll get a complete estimate during your first visit; there won't be any surprise fees. The restoration process is completed at our state-of-the-art in-house lab and surgical center. To request an appointment and learn more about dental implants for full mouth restorations, call (818) 805-0596 today.
Source: 
https://www.forbes.com/health/body/how-much-dental-implants-cost/