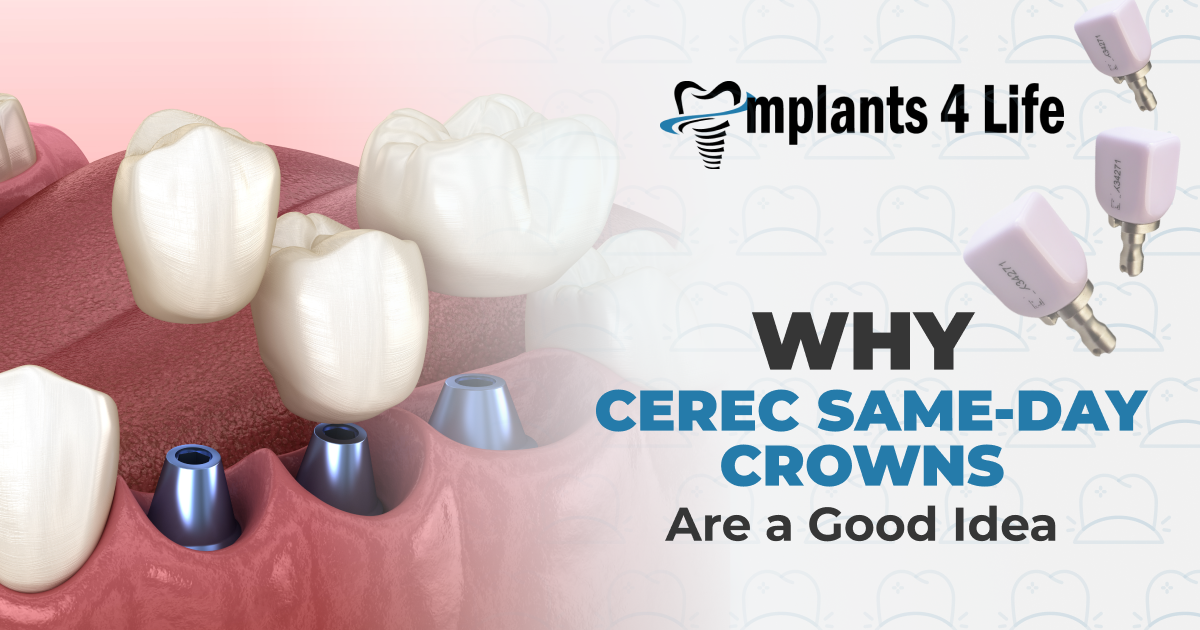 In recent years, dental restorations have become quicker and more convenient. CEREC same-day crowns represent an innovation that saves time in your busy schedule. They're a good idea for many reasons. Here's why it's worth it to schedule your same-day crown appointment with Implants 4 Life. 
CEREC Same-Day Crowns Benefits
CEREC Represents the Latest in Dental Restoration Technology
An acronym for Chairside Economical Restoration of Esthetic Ceramics, CEREC uses digital scanners and CAD systems to quickly manufacture dental crowns. The entire process is completed at the dentist's office while you wait. Whether you have worn or chipped teeth, they can be restored faster than with lab-made crowns.
Same-Day Crowns Save Time
Before CEREC, patients waited weeks between appointments. The first visit would involve preparing the affected tooth, taking a mold, and fitting a temporary crown. A second appointment would be required to receive the permanent crown. However, CEREC same-day crowns eliminate the need for a temporary fitting. Your restoration is completed in a single visit.
Dental Impressions Are Not Needed
Traditional crowns first require taking an impression of your teeth. The dentist would use putty that was messy, tasted bad, and, in many people, triggered a gag reflex. With CEREC, a digital scanner replaces this unpleasant step. The scanner is a wand slightly larger than an electric toothbrush; it creates a high-resolution 3D image that eliminates sending an impression to a lab.
A Variety of Issues Can Be Addressed
A CEREC crown can correct issues such as stains, uneven bites, or misshapen teeth. A cracked or chipped tooth can be filed down and fit with a natural-looking restoration. If an original tooth that's severely damaged or decayed can support the crown, your dentist may recommend it.
CEREC Same-Day Crowns Are Long-Lasting
These durable crowns are strong and can last 10 to 15 years with proper oral hygiene and care. They require the same maintenance as natural teeth, which includes brushing, flossing, using mouthwash, and visiting your dentist regularly. The porcelain material is also resistant to wear and tear. You can eat any type of food. 
Additional Damage Is Prevented
A dental crown creates a seal over a decaying, cracked, or broken tooth and can be the only way to preserve it. The crown can avoid further damage and keeps out bacteria. In the long term, this can mean avoiding tooth loss and more invasive techniques.
CEREC Same-Day Crowns Are Affordable
They're no more expensive than a lab-milled crown. While the dentist must cover the cost of equipment and maintaining it, the cost to you is the same. Same-day crowns eliminate the expense of a second visit and more local anesthetic. They also save on the cost of materials and time for your dentist.
Get Same-Day Crowns from Dr. E
At Implants 4 Life, we provide CEREC same-day crowns, so your restoration requires just one visit. We have state-of-the-art dental facilities in Sherman Oaks and Santa Clarita. Your treatment can often be completed in as little as two hours. To find out if you're a candidate for same-day crowns, schedule a consultation and exam by calling (818) 877-7284 today.