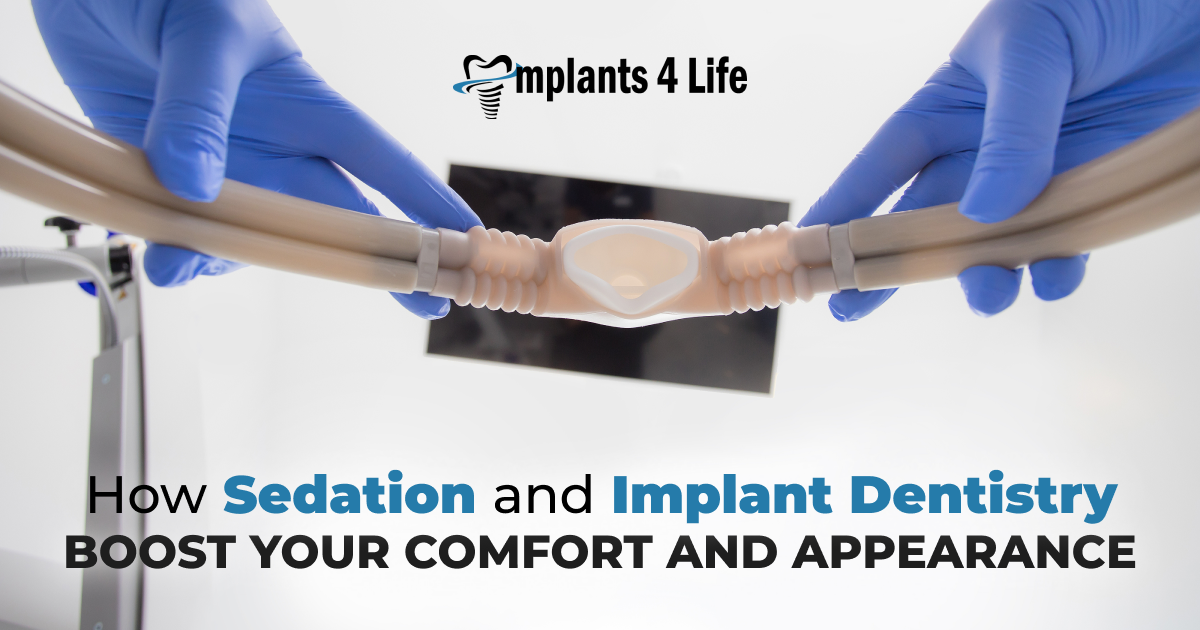 Dental implants improve your appearance with one, multiple, or a full set of natural-looking replacement teeth. Nowadays, their success rate is very high. But many people anticipate a painful, unpleasant experience. This is hardly the case with the latest advances in oral sedation dentistry. Below, we'll explain the options for sedation with implant dentistry, so you'll have no pain when receiving dental implants. 
Do I Need to Be Sedated for a Dental Implant Procedure?
It depends on the scope of the procedure and your tolerance to pain. If you're receiving just one or two implants (or more), local anesthesia is often used. Implant specialists take many steps to ensure you don't feel anything during the surgery. And after the procedure, you'll have a restoration that looks natural and allows you to eat, speak, and smile with confidence.
Conscious sedation will keep you relaxed but awake and aware of what is happening. It's often preferred by patients anxious about their implant surgery or dental visits in general. The types of anesthesia that can be used for this approach include:
Local Anesthetic

: A medication that numbs the surgical area is injected or applied to the site. This eliminates any pain or discomfort, while the patient is still fully conscious.

Nitrous Oxide Sedation

: Used with local anesthesia, nitrous oxide gas is inhaled through a mask to help the patient feel relaxed and free of anxiety.

IV Sedation

: Also used with a local anesthetic, IV sedation introduces a sedative into the bloodstream that keeps the patient awake but deeply relaxed.
However, the procedure involves cutting the gums and inserting a titanium post in the jawbone. Some patients prefer to be asleep. A dentist may recommend this approach if the person is more prone to anxiety or they require extensive surgery. Nevertheless, general anesthesia is used for:
Bone Grafting

: Bone grafting involves removing a small amount of bone from one part of the body and placing it where it'll fuse with the jawbone to support an implant. To ensure the patient's comfort, general anesthesia is used; they will be asleep and won't remember the procedure.

Full Mouth Dental Implants

: Deep sedation is usually preferred over general anesthesia if you're receiving full-mouth dental implants. Talk to your dentist in advance about the best option for you. Different methods of conscious sedation may be combined to ensure you're comfortable and relaxed.
Sedation and Implant Dentistry: After the Procedure
A patient typically goes home after dental implant surgery. But most people feel a little discomfort as their sedation wears off. Pain in the chin, cheeks, or under the eyes is common, but mild over-the-counter painkillers are usually enough to provide relief. Your dentist may also recommend rinsing your mouth with warm salt water and brushing your teeth gently. Regular follow-ups will help ensure the site is healing and the implants are bonding with the bone.
Schedule Your Appointment with Implants 4 Life
We provide complex dental restorations at our two offices in Southern California. Using the latest advances in oral sedation dentistry, we ensure you're comfortable during your implant surgery and fully benefit from dental implants. The process starts with a consultation, examination, and imaging of your dental anatomy, while an advanced CAD/CAM system lets us manufacture personalized restorations that improve your dental function and appearance.
To learn more about the procedures we do and what sedation options are available, schedule your consultation by calling 818-805-0596 today.