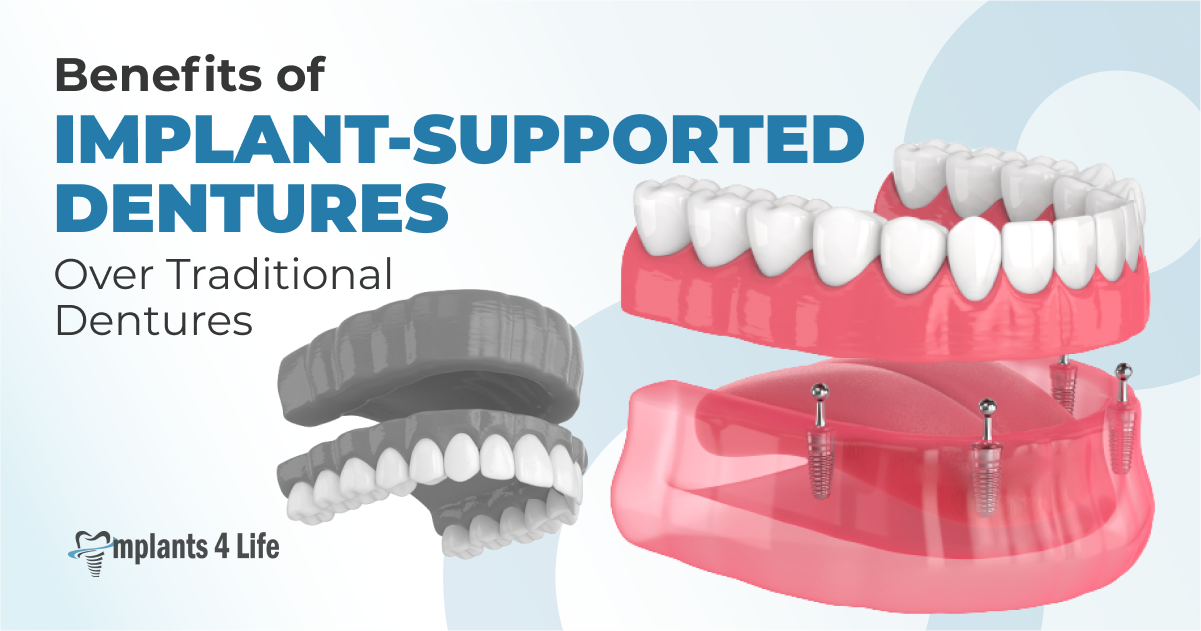 Implant-supported dentures provide a range of benefits over traditional ones. You don't have to qualify for dental implants to experience a more convenient dental restoration. Dentures can slip when you speak or eat, irritate your gums, and alter your appearance. 
At Implants 4 Life, all our treatments are customized to the patient's needs. We specialize in a variety of restoration solutions, including same-day crowns, All-on-4 dental implants, and implant-supported dentures. These are a middle ground between wearing dentures and receiving traditional dental implants. We'll explain what they are and how you can benefit from them.
What Is an
Implant-Supported Denture
?
Dental implants aren't for everyone. But even if you have too much bone loss or otherwise don't qualify for a permanent replacement prosthesis, there are options. We can place two or more implant posts into your jawbone. These create a stable foundation for a natural-looking and highly functional denture appliance. Oftentimes, it can be placed on the same day as your tooth extractions.
Implant-Supported Denture
Benefits
If you've previously used dentures and are in relatively good health, you may be a candidate for an implant-supported solution. The benefits include:
Increased Stability
Implant-supported dentures are anchored directly to the bone by titanium implant posts. They will not slip and don't need any denture creams or adhesives. You can smile, speak to a friend, or deliver a speech and these dentures will stay fixed in place.
A more stable restoration also means fewer dietary restrictions. Traditional dentures shift and are often brittle, so you can only eat soft foods. But not with implant-supported types. You can eat tough, chewy, or crunchy foods without worrying how they'll affect your dentures. An implant-supported appliance also restores your chewing ability, further expanding your dietary options and improving digestion.
Less Strain on Gums
Traditional dentures rest on the gum and irritate soft tissue. Slippage can also cause gums to wear down. This can result in gum infections, disease, and gum recession, which can lead to deeper problems.
Bone Preservation
Missing tooth roots can cause the jawbone to atrophy, even if you wear dentures. Dental implants help stimulate bone growth or at least halt the atrophy process. Aside from helping preserve bone, implant-supported dentures don't need to be adjusted to accommodate changes in your jaw. They'll last many years without adjustments or having to be replaced. 
Improved Quality of Life
A denture that's implant-supported looks and functions like natural teeth. If you've faced various difficulties, it can help you once again enjoy everyday life. Aside from helping you chew, they support your facial structure and give you a more youthful-looking smile. You can eat what you want, speak clearly, and experience an improvement in your overall self-esteem.
Exceptional Durability
Implant-supported dentures are made of a durable ceramic material that lasts for many years. They won't deteriorate over time. The result is a restoration that's stronger and requires little maintenance other than brushing, flossing, and regular visits to your dentist. Implants are more expensive upfront. However, they avoid the long-term costs of supplies and replacing traditional dentures.
Different Treatment Options
The latest advancements allow for a hybrid solution. It attaches permanently to implant posts. Only your dentist can remove this fixed denture. Otherwise, it stays in place day and night. Another option is a snap-on denture that remains attached to dental implants. It stays fixed until you detach it for cleaning and maintenance.
How Do I Qualify for Implant-Supported Dentures?
When you visit Implants 4 Life, we'll do a complete examination to determine the best solution for you. Perhaps you've been told traditional dental implants aren't an option due to bone loss or other issues. But if you're otherwise in good health, you may be eligible to receive implant-supported dentures without additional procedures such as bone grafts.
Candidates for treatment include those with missing teeth, significantly damaged or decayed teeth, or who've been relying on traditional dentures. Depending on your jawbone health, a bone graft may be recommended to build it up, so the implant will be even stronger.
Schedule an Appointment with Implants 4 Life
Led by Dr. Sean Ebrahimian, the premier implant dentist in Southern California, we provide implant-supported dentures and other treatment options that quickly and effectively restore cosmetics and function. Every step of the process takes place in one office. Our facility is equipped with the latest technologies to diagnose, plan, and complete your dental restoration, oftentimes in a single day. 
In addition to speedier and simpler treatment, thanks to an in-house lab with the latest imaging equipment and milling technologies, we offer free second opinions, flexible payment plans, and concierge services such as covering the cost of travel to and from surgery. To learn more or schedule an appointment, call (818) 805-0596.