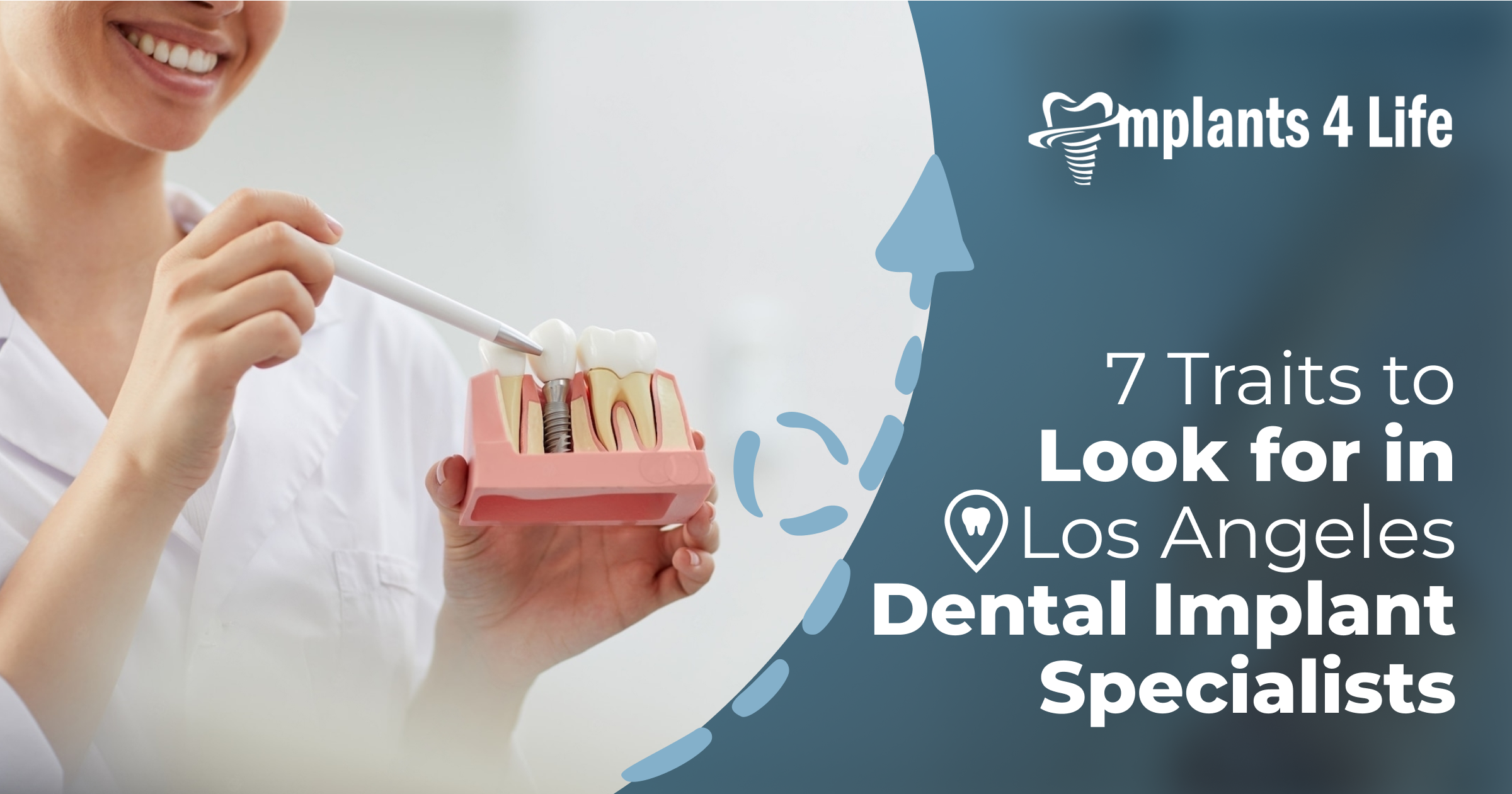 When you need a Los Angeles dental implant specialist, there are a few traits you should look for. Dental implants are a permanent solution to missing, damaged, or decayed teeth. Not just any dentist is qualified to provide them. Successful treatment depends on finding the right professional to reduce the risks and ensure you're comfortable. Therefore, look at these seven factors when choosing a Los Angeles dental implant specialist:
1). Experience In Dental Implant Technology
Consult with a dentist who is experienced in many areas of dentistry. Some dentists do implants occasionally while others focus solely on implants. The more implant cases and the more types of dentistry the practitioner is experienced in, the better equipped they are to offer options, meet your needs, and put you at ease. 
Experience with the latest technology is also important, as intraoral scanners eliminate dental impressions, 3D CAD/CAM systems allow restorations to be milled quickly, and newer techniques enable implant procedures to be completed in less time. Never underestimate the importance of experience. After all, dental implants restore dental function, improve appearance, and can boost your confidence.
2). Connections to Other Specialists
You may need only one dentist for your implants. But some cases are more complex. For example, you may need a periodontist to address gum issues first. Or, a maxillofacial surgeon may be required to perform a bone graft. Tooth extractions are also common before dental implant procedures. If your implant specialist can refer you to the right dentist, works with one in-house, or does various procedures themselves, you'll receive the most comprehensive, professional treatment.
3). Industry Recognition
Check that any Los Angeles dental implant specialist you consider is recognized by the American Dental Association (ADA). The ADA requires member professionals to undergo additional education and training before it certifies them. After graduating from dental school, oral and maxillofacial surgeons must complete four more years of training, while prosthodontists must complete a three-year surgical training program. A year of anesthesia training is also required.
4). Communication Skills
An implant dentist should thoroughly explain your options, understand your expectations, and listen to what you want. You should get a good feeling from the start. Dental implant treatments also require careful planning. Your dentist should discuss each step of the process from the beginning and help you understand any additional procedures that may be required. And make sure they explain how to care for your implants to ensure they last.
5). They Work In a Comfortable Environment
During your consultation, take note of the environment. The office should be designed to promote comfort and relaxation. If the dentist has put so much thought into ensuring your well-being, their office staff is likely just as caring. But if the office environment doesn't feel comforting or seems to reflect indifference to your needs and comfort, you may not have found the right implant dentist.
6). Great Reviews
Reading reviews about a dental implant specialist can make your search more productive. Most dental websites have reviews on specialists; the implant dentist's site may even have them. Look for patients who've had implants. Are people generally satisfied with the treatment they receive and the results, or do they tend to complain? If the reviews are overwhelmingly positive, speak to the dentist in person to get a better sense of their capabilities.
7). They Provide a Range of Treatment Options
In addition to their knowledge, connections, and reputation, look at the procedures offered by a Los Angeles dental implant provider. Ideally, they offer a range of options to ensure you receive a fully functional restoration. Common types include single-tooth dental implants, which can be used to replace one or more missing teeth, and full arch implants to replace a set of lower or upper teeth. An All-on-4 procedure uses just four titanium screws to support a full arch. Also, look for the use of high-quality materials such as medical-grade titanium and high-strength ceramic.
Contact Our
Los Angeles Dental Implant
Specialist
At Implants 4 Life, we provide complete dental implant services in Sherman Oaks and Santa Clarita. We specialize in various procedures to meet a wide range of needs. Led by the expertise of Dr. E, our office includes a full lab where we quickly mill personalized dental restorations. High-quality dental implants can be provided in one day, while various sedation dentistry options are available. To schedule a consultation, request your appointment online or call (818) 650-4099.